Canada Excellence Research Chair in Data Science for Real-Time Decision-Making
The Canada Excellence Research Chair in Data Science for Real-Time Decision-Making aims at developing new tools and methodologies that will allow enormous volumes of data from multiple sources to be processed and analyzed in real time — in order to obtain usable knowledge and to automate decision-making. By combining processes for analyzing highly targeted data and real-time decision-making, their mathematical model-based tools will help organizations improve performance, by creating highly customized outputs and taking into account the environments, needs and individual behaviors of their clients or users.
The applications that result will foster new business models that are based on accurate depictions of user behaviors and expectations, combined with competitors' responses. The many sectors that could benefit include transportation management, energy, health care and manufacturing, as well as supply chain management and logistics.
The Chair will make it possible to train the next generation of data science specialists, who will be able to master the scientific, technological and economic issues emerging from the big-data explosion. Their multidisciplinary skills and their understanding of business issues will make them a labor force highly sought-after by employers from every sector of the economy who wish to transform their decision-making processes.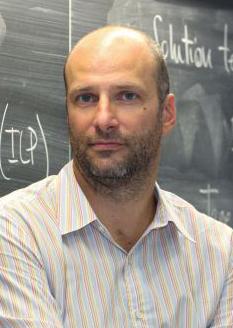 chair
Lodi

,

Andrea
Andrew H. and Ann R. Tisch Professor
,
Jacobs Technion-Cornell Institute

,

Cornell University
News
Aug 20, 2021
Professor Andrea Lodi from Polytechnique Montréal received the INFORMS Farkas Prize. This prize is awarded annually to a mid-career researcher for outstanding contributions to the field of optimization, over the course of their career.
Congratulations!
Mar 11, 2021
Sanae Lotfi, a graduate of the Master of research in applied mathematics, has received the Best Master's Thesis Award of the Department of Mathematics and Industrial Engineering, Polytechnique Montréal.
Sanae Lotfi's thesis, "Stochastic first and second order optimization methods for machine learning", was co-directed by professors Andrea Lodi and Dominique Orban.
Congratulations!
Jan 13, 2021
Andrea Lodi and Guy Desaulniers contacted to improve the distribution of molecular and serological tests for COVID-19 across Canada.
8 news
Events
Dec 5, 2023
11:00 AM — 12:00 PM
DS4DM Coffee Talk
Marius Roland

–

Polytechnique Montréal
Canada Excellence Research Chair in Data Science for Real-Time Decision-Making
Dec 5, 2023
11:00 AM — 12:00 PM
DS4DM Coffee Talk
Mahdis Bayani

–

Polytechnique Montréal
Canada Excellence Research Chair in Data Science for Real-Time Decision-Making
Nov 29, 2023
03:00 PM — 04:00 PM
DS4DM Coffee Talk
Matthias Soppert

–

University of the Bundeswehr Munich
Canada Excellence Research Chair in Data Science for Real-Time Decision-Making
51 activities